We recently reviewed Trevin Wax's Counterfeit Gospels and are excited that he was kind enough to talk with us for a bit and answer some of our questions. We encourage you to check out his blog, Kingdom People. Here's our discussion…
Luke: Trevin, thanks for taking the time to answer some of our questions! If you wouldn't mind, would you tell us a little bit about yourself, what you do, and what you've written?
Trevin: My name is Trevin Wax. My wife, Corina, and I have been married eleven years, and we have three children. We live in the Nashville area, where I serve at LifeWay as the managing editor of The Gospel Project – a small group curriculum for all ages that focuses on the grand narrative of Scripture. I've written Holy Subversion, Counterfeit Gospels, Clear Winter Nights, and Gospel-Centered Teaching.
Luke: Awesome! Having three kids means you must be busy. How do you decide what topics you are going to write books on?
Trevin: It's been different with every book actually. I wrote Gospel-Centered Teaching after receiving dozens of requests for a short, "primer" on what we mean by gospel-centrality – something pastors and church leaders could share with the teachers in their churches. Clear Winter Nights was my attempt to jump into the world of fiction by doing "theology in story." Counterfeit Gospels and Holy Subversion grew out of the burden I had as a local church minister seeking to equip the people in our congregation to be faithful to Christ.
Luke: That's very interesting, Trevin. I think a lot of people always wonder how books are "born," so I appreciate your answer! Let's talk about Counterfeit Gospels, which I recently reviewed and really enjoyed. I found some of the concerns you have to be very similar to those that Gresham Machen had nearly ninety years ago. What do you think the major differences are between today's American Christianity and the challenges faced in the early 1900's?
Trevin: Machen's Christianity and Liberalism is a must-read. Even though it's older now, there are aspects of his analysis that are even more potent now than when it was first released, primarily because the bad fruit of liberalism is now evident in so many churches, particularly the mainline denominations. That said, there are certainly some differences.

One of the biggest ones I see is this: I don't find that many Christian apologists feel they have to convince people today that miracles can happen before they get to the specific claims about Jesus of Nazareth. You run into hardened naturalists every now and then, but it seems like most people have an undefined belief that miracles can and do happen. The question today is whether or not these miracles are from a Deistic God who intervenes only now and then in human history, or whether they are part of a pantheistic worldview where the universe is alive with supernatural energy, etc.

Machen was writing against Christians who wanted to cast aside the embarrassing parts of Christianity (such as belief in miracles) and keep "the essence" – Christianity's moral precepts. What's changed today it's not the miracles that are embarrassing but the moral precepts! It's our view of sexuality, of objective truth claims, of Christ's uniqueness. There are plenty of Christians who think we can shed these "cultural oddities" and maintain the core of Christianity. They are wrong.
Luke: Fair enough! Thanks for your thoughts there, they are helpful! So let's talk about your favorite theologians and authors. Who are they and why? I realize asking a fellow book lover this question is dangerous, but indulge me!
Trevin: That could take up the rest of the interview. I guess I should begin with the 3 Brits I've read a lot of – John Stott, N. T. Wright, and C. S. Lewis. I am always reading and rereading books from these three theologians. Stott for the breadth and balance in his theological vision. Wright for his insight into historical context and biblical theology. Lewis for his imaginative gifts and literary flair. Favorite authors would broaden the list to G.K. Chesterton, N.D. Wilson, Tim Keller, and then older authors / preachers like Chrysostom, Augustine, and Spurgeon.
Luke: Thanks, Trevin. We appreciate your time! One last question for you related to your book Counterfeit Gospels. In addition to purchasing the book, how can churches best integrate your thoughts on the gospel story, gospel announcement, and gospel community?
Trevin: That's a great question that could lead to another book! In short, I'd say that Christians need to be formed by the whole Bible in their study. Read the Bible chronologically, read a Bible overview book at least once a year, be formed by the worldview displayed in the Bible. For the announcement, we should make sure that we are equipped to give the basic announcement of the gospel whenever we have the opportunity. I believe our gospel presentations should be tightly connected to an invitation into the church community as well, to show that these two things are connected. Salvation (individually) incorporates us into the Body of Christ (corporately). And of course, just being the church – loving, serving, doing good to all, especially the household of faith – is a great way to show the truth of the announcement and the unity we have in the gospel that shapes us.
Luke: Thanks for your time, Trevin. I really appreciate it. Thanks for your writing, both the blog and the books. They've been a blessing in my life and I know they've blessed a lot of other people too!
*********************************
Anyone have any questions or thoughts for Trevin? Maybe he'll take the time to stop by and respond. I'll see if I can twist his arm, proverbially speaking.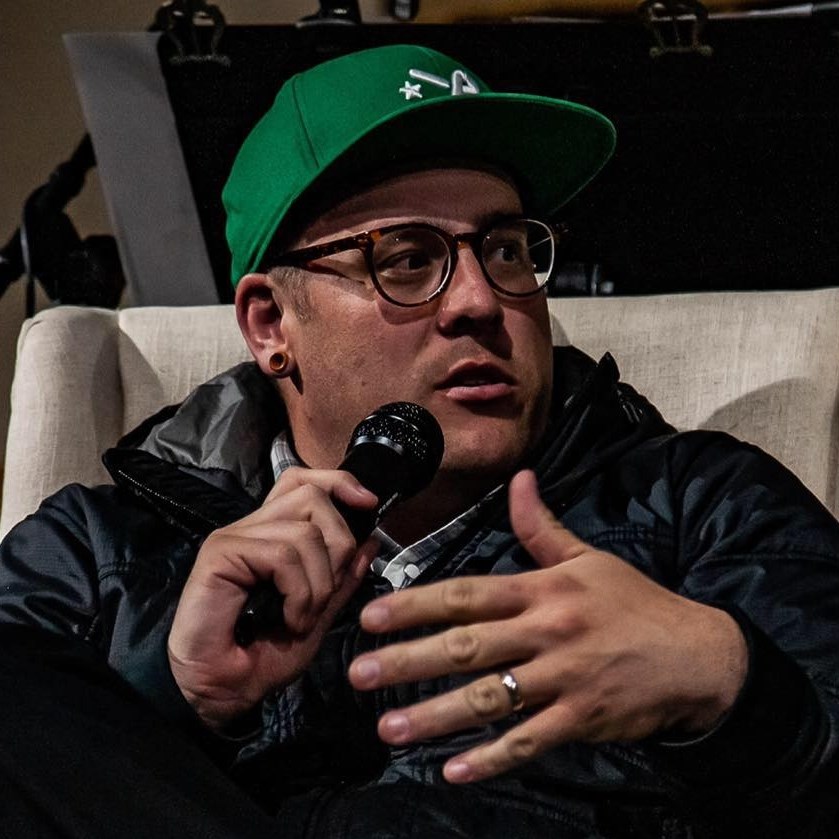 Luke is a pastor-theologian living in northern California, serving as a co-lead pastor with his life, Dawn, at the Red Bluff Vineyard. Father of five amazing kids, when Luke isn't hanging with his family, reading or writing theology, he moonlights as a fly fishing guide for Confluence Outfitters. He blogs regularly at LukeGeraty.com and regularly contributes to his YouTube channel.