I enjoy beer. There, I said it. But more than beer, I love Jesus and believe that the final authority in my life is the infallible Word of God. To some, I've already undermined my love for Jesus and Scripture because I do not have a personal vendetta against alcohol. In this here blog post I shall attempt to challenge that assertion and provide my thoughts on alcoholic beverages. I do not believe that enjoying beer, wine, or liquor in moderation damages one's Christian witness.
I should probably add, importantly, that in my thirty-four years of life I have never been a stumbling drunk. More importantly, however, my perspective on alcohol is not simply based on my own experience with alcoholic beverages.
While everyone's opinions are susceptible to the influence of our lives, I believe it's important as a Christian to do my best to allow Scripture to help me form my opinion on the subject more so than my experience. So the fact that I was raised in an alcoholic environment as a child and have had many friends and family members abuse alcohol does not cause me to determine that all alcohol should be avoided. Nor does the fact that I have seen former alcoholics reach the point where they can enjoy a glass of wine without falling off the wagon.
My primary influence, I believe, is Scripture. In addition to exegesis, I think we must be wise in how we reflect on this subject, especially as a pastor. I see two issues of concern:
Legalism. There is not a single verse in the Bible that tells us drinking alcohol is a sin. Seriously. Read that again: there is not a single verse in the BIble that tells us drinking alcohol is a sin. That doesn't mean that drinking alcohol can't be a sin, but that it's not as simple as saying, "All beer drinking is sinful." To suggest otherwise is to fall into the same category as many of the Pharisees of Jesus' day. This is a gospel issue. To suggest that one is saved by more than trusting in the atoning work of Christ is to add to the gospel.
Lawlessness. The reformed part of me wanted to write antinomianism there, just so you know. At any rate, I have a real concern that many evangelicals have swung away from legalism right into the trap of licentiousness. Yes, we aren't saved by works, but we are saved to and for good works (Eph. 2: 10). Our response to the grace of the gospel is worship, which is regularly communicated in the OT (and NT) as obedience. Or, as Samuel said, "to obey is better than sacrifice, and to listen than the fat of rams" (1 Sam. 15:22).
Simply stated, these are the two extremes (variations exist, obviously). One side mistakenly equates holiness with a prohibition that does not exist in Scripture. The other allows for a freedom that ignores guidance that Scripture provides. Perhaps we should search for a radical middle? I think so.
Addressing the Arguments of Legalists
I don't want to suggest that all legalists have sinful intentions. Many (most?) seriously want to see God glorified and people loved. They mean well. And I respect them and their right to have an opinion on the matter. Not all teetotalers are legalists either. Some abstain for personal reasons and they are certainly welcome and appreciated! My concern is in regards to teetotalers who believe their personal convictions on alcohol should be the personal convictions of all Christians. I have serious reservations about their perspective, for a number of reasons:
First, I do not believe they can sustain their view if they read all of the Bible. How can someone state that Christians should never drink alcohol when Scripture clearly indicates that God sovereignly provided wine to make people happy? Oh, you didn't know that verse was in the Bible? The psalmist writes:
"You cause the grass to grow for the livestock and plants for man to cultivate, that he may bring forth food from the earth and wine to gladden the heart of man, oil to make his face shine and bread to strengthen man's heart." (Psalm 104:14-15)
Yep, you read that right. God causes creation towards providentially providing for people to enjoy food and wine. You can't do exegetical gymnastics with this verse. The word for "wine" means…. wine (Heb. yayin). This, of course, is simply one verse. Brad Whittington has determined that after surveying all that Scripture says about alcohol, "59 percent of the references were positive."
Taking a legalistic approach simply does not work. It's completely foreign to the world of the NT and goes against what we read in the Old Testament, ministry of Jesus, and the teachings of the apostles.
Remember, Jesus turned water into wine, and that wine was most assuredly alcoholic. Yet there are still plenty of pastors who state that the wine that Jesus made was essentially grape juice. I beg to differ. As Doug Wilson has said…
"If your pastor says that the wine in the Bible was grape juice, then how can you trust anything he says?"
Second, I do not believe that legalists are consistent in how they interpret and apply Scripture. For example, legalists will quote Proverbs 23:20's "be not among drunkards…" and rest their case. While it seems obvious to point out that there's a radical difference between someone enjoying a beer versus someone who is an alcoholic, what's more questionable to me is that they don't quote all of the verse! If you read all of Proverbs 23:20, you'll read:
"Be not among drunkards or among gluttonous eaters of meat," (Prov. 23:20)
Apparently gluttony is a sin too. Yet I've never had someone send me a Facebook message informing me that I was a disappointment or had damaged my Christian witness because I have eaten too much. In fact, it would seem that many of the people who fall into the legalist camp are often actually overweight themselves! That seems rather inconsistent and highly selective on their part.
On top of this obvious inconsistency, here's another related issue. The Centers for Disease Control and Prevention (CDC) states that "there are approximately 80,000 deaths attributable to excessive alcohol use each year in the United States." That's a lot of deaths… the third leading cause in the United States. We're also informed that forty percent of assaults are the related to alcohol abuse. The abuse of alcohol has serious consequences. These statistics are probably making my legalist friends excited.
Guess what's significantly more responsible for death in the United States? You guessed it: poor diet and physical inactivity. In fact, this cause blows the abuse of alcohol completely out of the water.
Third, I believe legalists ignore two important qualities of being a follower of Jesus: discernment and moderation. The Christian life is much more than a simple black and white checklist. Life is complex and we should, I think, seek to be discerning at all times as we seek to walk in the Spirit and follow the Lord's guidance. Rather than a "yes" or "no" with alcohol, we should teach (and model) a deeper theology of discernment. Instead of a legalistic approach, I think we should model the same type of discernment we find in the NT, where the apostles discerned together whether certain foods would be a barrier to the gospel or not (Acts 15:28).
Legalism has nothing to offer byway of moderation. Yet that's a key to Christian discipleship. We do not tell people that sex or food are evil, even though both are abused. Instead, we tell people that both sex and food are to be enjoyed in moderation. The same, I believe, should be true with beer, wine, or liquor.
As I've stated, I've never met someone tell another Christian they shouldn't eat food or that they should stop having sex with their spouse. Instead we talk about the idea of moderation. Don't eat seventeen plates of food or eleven candy bars. Take care of your body because it is a temple of the Holy Spirit (1 Cor. 6:19).
My wife and I have prayerfully reflected on this in regards to our own children. Because I don't want my children to believe lies and because I want them to grow up knowing that their father, who is a pastor, didn't abuse Scripture or selectively use it to further my own agenda, we've decided to help them think about the things that God's given to use through the lens of moderation.
That means that our children see me and other followers of Jesus, from time to time, enjoying a beer or a glass of wine. They hear from us that alcoholic beverages can be enjoyed, but that it's like most things in life, you have to enjoy it in moderation. In the same way that you shouldn't eat fifty candy bars because it's bad for your health and hurts your Christian witness (notice that consistency), abusing alcohol isn't good for your health and hurts your Christian witness.
For the person who struggles with alcohol, I want them to also see that alcohol can be moderately enjoyed and not control you. Moderation is a much more holistic and effective model to follow, in my opinion.
Teetotalism (the complete abstinence of drinking alcohol) is a breeding ground for legalism. In my experience, it has more in connection with a pharisaic approach to Christian living than I care to be associated with. After all, when one can selectively cherry pick verses in the Bible, don't they have a lot more in common with the Pharisees than with Jesus, who encompassed all of Scripture?
It may not mean much to you, but I find it curious that many of our churches and denominations have regulations concerning alcohol that would keep Jesus and the apostles from being able to function in leadership or be church members! Jesus clearly drank alcohol, and he did it in a missional manner. That's why people called him a glutton and a drunkard, because he was "a friend of tax collectors and sinners" (Luke 7:34).
If Jesus was judged a glutton and drunkard because he drank wine/beer and hung out with sinners, I'm glad to be counted among his company. 
Addressing the Arguments of the Lawless
Listen, the Scriptures explicitly state that drunkenness is a sin:
"And do not get drunk with wine, for that is debauchery…" (Eph. 5:18)

"Or do you not know that the unrighteous will not inherit the kingdom of God? Do not be deceived: neither the sexually immoral, nor idolaters, nor adulterers, nor men who practice homosexuality, nor thieves, nor the greedy, nor drunkards, nor revilers, nor swindlers will inherit the kingdom of God." (1 Cor. 6:9-10)
These passages make it abundantly clear that being drunk isn't condoned by Scripture. On top of that, drunkenness is often a metaphor for spiritual apathy (cf. 1 Thess. 5:7-8; Rev. 17:2). Because God is holy, his people are called to holiness (1 Pet. 1:15-16). We are most certainly free from the Law; we are not free from what is explicitly stated in the NT as being a continuing prohibition (i.e., drunkenness). Furthermore, if something is causing you to sin, Jesus is pretty clear about how serious you need to get in order to overcome that sin (cf. Matt. 5:29-30). 

What about these "weaker" brothers/sisters? 
This is a classic and standard argument for those who are legalists. The essentially suggest that because people may have been alcoholics or struggled with drunkenness, we shouldn't drink around them because we might cause them to fall back into sin. Advocates for this perspective primarily point us to the following two passages:
"Thus, sinning against your brothers and wounding their conscience when it is weak, you sin against Christ. Therefore, if food makes my brother stumble, I will never eat meat, lest I make my brother stumble." (1 Cor. 8:12-13)

"Do not, for the sake of food, destroy the work of God. Everything is indeed clean, but it is wrong for anyone to make another stumble by what he eats. It is good not to eat meat or drink wine or do anything that causes your brother to stumble." (Rom. 14:20-21)
I don't want to diminish the missional concern that the apostle Paul provides here. After all, he writes under the inspiration of the Holy Spirit. If we think something may hinder the work of God, we should pause and reflect. My issue is with what I'd call a shallow reading of these texts. I don't think applying these texts in a way that reaches teetotalism is Paul's point.
So when I receive a private Facebook message that tells me I'm a disappointment and have diminished my Christian witness because of my stance on beer, I'm going to remind myself of other Pauline texts, including the previous context of Romans:
"As for the one who is weak in faith, welcome him, but not to quarrel over opinions. One person believes he may eat anything, while the weak person eats only vegetables. Let not the one who eats despise the one who abstains, and let not the one who abstains pass judgment on the one who eats, for God has welcomed him." (Rom. 14:1-3)

" Therefore let no one pass judgment on you in questions of food and drink, or with regard to a festival or a new moon or a Sabbath." (Col. 2:16).
The primary concern about abstaining from food and drink in the texts in question has everything to do with eating food that was either (1) deemed unclean according the Mosaic Law or (2) food or drink that was previously offered to idols that was then sold later in the marketplace. These texts are not primarily addressing whether or not a Christian can have a beer. That's a secondary application that may or may not be best.
But that raises an important question for me: who are these weaker brethren? I am only thirty-four years old, so by some standards I'm young and by others I'm old. Nonetheless, I have thirty-four years of experience and the vast majority of that has been as a Christian (i.e., for as long as I can remember I was involved in a church). I have yet to actually meat a real and true "weaker" Christian. By "weaker," I mean someone who saw another Christian drink a beer or a glass of wine and then fall of the wagon and go back to drinking. I have, however, met a lot of legalists who function in a way that sure sounds like a "weaker" brother/sister.
A few years ago I read an excellent blog post by Michael Patton about "professional weaker brethren." Concerning balancing the two concepts in Romans 14, he wrote"
"However, we can take this too far. I don't think we are obligated to bow our liberty to everyone who has a problem with our actions. A "weaker brother" is one who is truly weaker, not just one who has a misguided interpretation of things. He is weaker because he has not been educated in these issues. You must understand, he is not supposed to or expected to stay "weaker." Eventually, he is suppose to become stronger. Unfortunately, far too often these weaker brethren realize their power and become "professional weaker brethren.""
So I want to encourage readers to really think a lot deeper on this issue of "weaker" Christians. After all, we don't stop eating food in public simply because there are unhealthy obese people around us (who may or may not be gluttons). If we consistently read Scripture and consistently apply Scripture, I'd like to know why legalists don't stop eating in public (people abuse food), having children (people will know you had sex and sex is abused), watch tv (lots of bad stuff on the tv), or drive cars (people ignore laws and speed). The food one is most interesting to me, since beer falls into the broad category and, if you remember, eating habits and health are significantly more responsible for death in the U.S. than alcohol.
Finally, I want to make clear that I'm not suggesting that all Christians need to drink in order to be "cool" or "orthodox." I'm simply saying that if another Christian, nay, if I am drinking a beer, don't judge me. And if you are someone who drinks beer or enjoys a glass of wine, be thoughtful. Don't be afraid to interact over the subject and talk to people about your views, but don't be an idiot either. There's no need to insist that someone needs to drink a beer simply because you consider all teetotalers to be legalists (they aren't).
At the end of the day, this is an issue that we can agree to disagree on. I do hope that you'll reflect deeper on the issue. I've been pastoring for eight years now and have enjoyed a delicious dark beer or glass of wine throughout that time and have been very open about my views about alcohol. So this is the answer I give to people when they ask me my "position" on alcohol. This is how we're raising our children and how I push back against both "legalism" and "lawlessness" as I see them.
What do you think? How have I overstated my case (as I'm sure I have)? I am really just trying to get the fundies posting on our blog, so take that for what it's worth! 🙂
Now read what Kenny and Able  have contributed to the wider discussion, and be sure to add your voice to the comments below.  We invite you to think about this with us.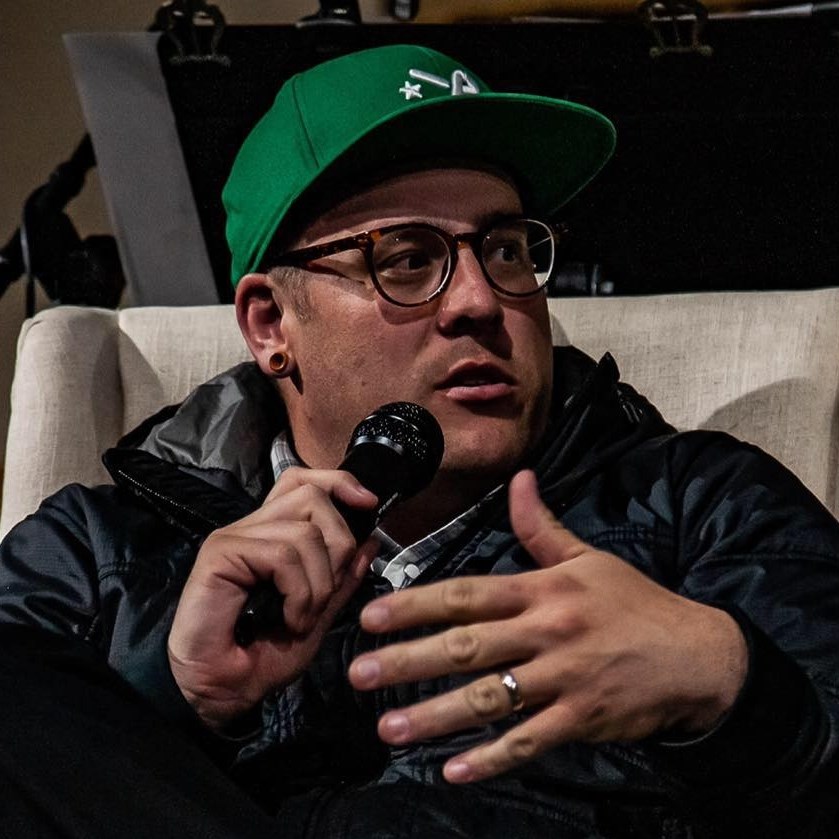 Luke is a pastor-theologian living in northern California, serving as a co-lead pastor with his life, Dawn, at the Red Bluff Vineyard. Father of five amazing kids, when Luke isn't hanging with his family, reading or writing theology, he moonlights as a fly fishing guide for Confluence Outfitters. He blogs regularly at LukeGeraty.com and regularly contributes to his YouTube channel.