God's mission of extending the rule and reign of his kingdom to every square inch of the world is the scope of his great love. As the prophet Isaiah declares, "for the earth shall be full of the knowledge of the LORD as the waters cover the sea" (Isa 11:9). This is the great eschatological promise of the Old Testament prophets, inaugurated at Jesus' first coming.
All this is to say that God cares about the nations and different ethnic groups spread all over the world. Unfortunately, much of church history is filled with examples where Christians assumed that their culture, ethnicity, or nationalistic identity was connected to God's message and mission. This led to the tragic consequences of colonialism often undermining the Missio Dei.
Imagine, if you will, being in various countries in Africa or Asia or Central and South America, which each have beautiful cultures, and coming upon a church building that looks like it was built in Texas. Not only does the building stand out as being distinctly not of that community, but the songs being sung are all in English and none of the beautiful instruments that are used in that country are being used. Additionally, the preacher and other church leaders are all wearing suits and ties or dresses that also can be characterized as definitely being American or European.
Missiologists will tell you this can be a huge mistake because of the consequences of such an approach. The reality is that what was communicated to Asians and Africans and those in the global south is often that to be a follower of Jesus one must embrace the cultural traditions of while males. This has led to churches in Thailand, Kenya, and Brazil with a distinctly American identity versus the cultural identity of the actual surrounding people and cultures that those churches are in! It's a missiological nightmare, to say the least.
Having travelled in many parts of the world outside of the US, including Africa and Asia, I'm convinced this is a very real problem and challenge for us to be aware of in the United States and Europe. We're often to quick to assume that our western worldview should be normative and that our cultural assumptions are inherently positive and correct over and against other perspectives.
Soong-Chan Rah powerfully captures this challenge when he writes:
"The American evangelical church tends to be a few steps behind the rest of culture and society. Once evangelicalism grabs a hold of something, however, it tends to add its own unique spin. Contemporary Christian music, online Christian dating services, Christian T-shirts employing commercial logos are some of the examples of the attempt to "Christianize" American culture." (The Next Evangelicalism: Freeing the Church from Western Cultural Captivity)
Rah goes on to explain that not only do we Americans often try to "Christianize" our American culture, we import our assumptions about what it means to "Christianize" by forcing those onto the cultures around us.
Let's be clear here: this means that what we have often told Africans is that in order to follow Jesus they have to look like us, talk like us, and worship just like us.
Culturally Relevant Mission is a Great Starting Point to Correct this
Of the five Core Values of the Vineyard, our commitment to "pursue culturally relevant mission in the world" is a great starting point toward correcting this tragic missiological approach. The reason why it is so important is because it assumes that God's Mission must be expressed in a "culturally relevant" manner. The gospel of the kingdom is relevant and applicable to every single culture that exists! And the message of Jesus' life, death, and resurrection can be communicated using every language available. And followers of Jesus can worship God in their own languages with their own cultural tools (e.g., instruments) while wearing their own localized clothing. And the building in which they gather together can be their home, which looks like all of the other homes in the village, or a building that looks like all of the other buildings around them.
You see, I think it would be a mistake to only understand the core value of pursing culturally relevant mission if it means we're focused on reaching every generation, old and young alike. That is certainly an aspect of pursuing culturally relevant mission but it's not the end all, be all. We need to expand our understanding of what this means. Here are a few suggestions:
(1) Pursuing culturally revenant mission means that we need to correctly understand the different between the message of Jesus versus the message of our own cultural identity which we import into Jesus' message. The fact of the matter is that we all make many assumptions about what is included in telling Jesus' story and what he's doing. Our church baggage, whether it includes positive or negative experiences, need to be understood as being just that… ours. Again, western culture is not a heavenly culture. The Christianity of early American history (i.e., the Puritans) may have been great American expressions of the Christian faith, encapsulated within the American (and British!) culture. But that does not mean that early American culture should be considered the best expression of a Christian culture. The Christians living in other parts of the world, and there were many, that were following Jesus in their own cultural traditions should be considered just as relevant and important as the Puritans.
(2) Pursuing culturally relevant mission means we do all that we can to communicate the message of Jesus in a way that is understandable to those watching and listening. If we were proclaiming and demonstrating the kingdom of God to people from a uniquely Asian background, we would want to use their language so they could understand our words. We would also want to provide visuals and applications and word pictures as well as engage the challenges that their own culture provides. This goes for people from different generations and a whole host of different backgrounds. The point is that we make the effort that they understand the message of Jesus. The methods and ministries are fluid whereas the message remains the same… yet it must be communicated in an understandable way.
(3) Pursuing culturally relevant mission means that we need to take the time to understand before we just communicate. Many an American missionary, whether short-term or long-term, has learned that there are things that we do or words that we use or ideas that we have that are offensive to others from different cultures. If we're only concerned with communicating and don't take the time to communicate effectively by understanding the best way communicate, we can actually do more damage than make positive inroads!
Creative Missions in the Kingdom 
What I love about reading the New Testament is that we see how creative the early Christians were! This appears to be the natural outworking of what the apostle Paul stated:
"To the Jews I became as a Jew, in order to win Jews. To those under the law I became as one under the law (though not being myself under the law) that I might win those under the law." (1 Cor. 9:20)
St. Ambrose, a controversial bishop from the 4th century, put it this way:
"… if you should be in Rome, live in the Roman manner; if you should be elsewhere, live as they do there."
Consider these different "mission targets":
Young people
Middle aged people
Old people
Urban centers
Rural communities
Unique ethnic groups effective
People from other religions
Postmoderns
Post-Postmoderns
Moderns
Each of these groups raise unique challenges and opportunities that we either overlook or intuitively respond too. For Scripture itself indicates that effective missional praxis demands Spirit-inspired creativity.
I'll close with the way in which the Vineyard core value on culturally relevant mission is expressed:
The church exists for the sake of those who are exiled from God. We are called to bring the gospel of the kingdom to every nook and cranny of creation, faithfully translating the message of Jesus into language and forms that are relevant to diverse peoples and cultures.

We seek to plant churches that are culturally relevant in a wide variety of settings locally and internationally. Each Vineyard church is encouraged to reach those in its community not already reached by existing churches. To this end, we promote a creative, entrepreneurial and innovative approach to ministry that is faithful to Jesus and expressive of His heart to reach those who are far away from God.
This missional lean is critically important for us because it helps us effectively reach people from every tribe, tongue, and nation while also challenging us to recognize the difference between God's kingdom and our own cultures.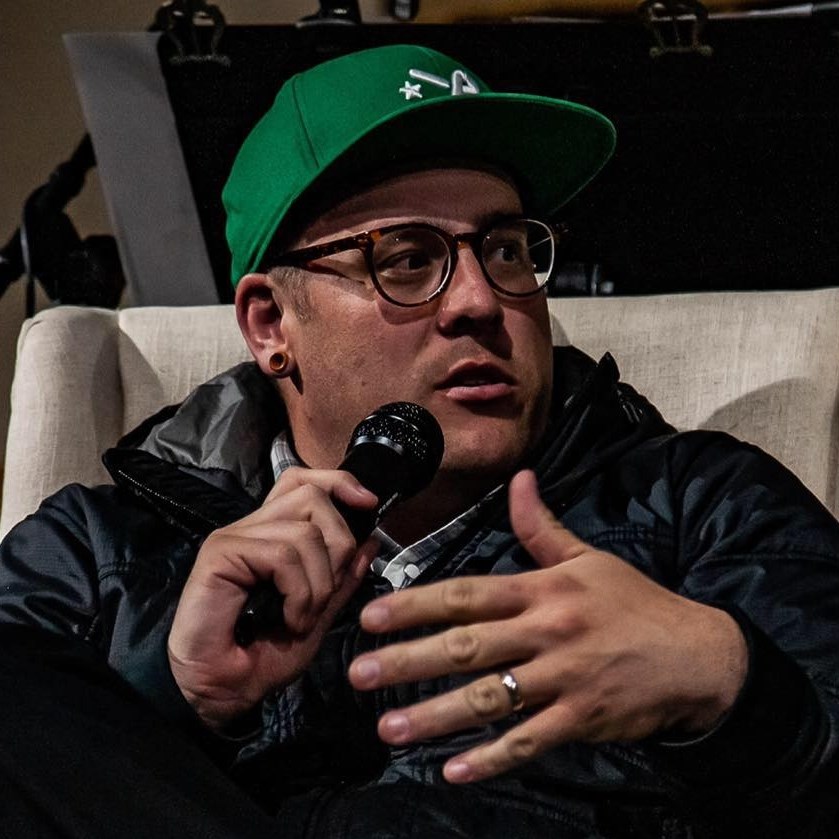 Luke is a pastor-theologian living in northern California, serving as a co-lead pastor with his life, Dawn, at the Red Bluff Vineyard. Father of five amazing kids, when Luke isn't hanging with his family, reading or writing theology, he moonlights as a fly fishing guide for Confluence Outfitters. He blogs regularly at LukeGeraty.com and regularly contributes to his YouTube channel.