As a Vineyard pastor in a Vineyard church who spends time with people who self-identify with the Vineyard movement, I often think on subjects through a "kingdom" lens. This is because our identity, both theologically and practically, are rooted in a commitment to the proclamation and demonstration of the kingdom of God.
As people of the Kingdom of God, we value partnering with the Holy Spirit, experiencing and worshipping God, being people of reconciliation, engaging in compassionate ministry, and pursuing culturally relevant mission. I'm convinced that these Vineyard values provide a way of us to approach the current issues related to Ferguson, Garner, and the racial tension that has been raised.
So how should we, in the Vineyard, approach these issues? How should we discuss Ferguson, both Brown's death and the protesting that has followed? How should we respond to Eric Garner's death in New York? What can we offer or how should we think and respond related to the ensuing racial tensions that still clearly divides the United States. I want to provide a few thoughts, through the lens of our values, on how we might approach this subject. This post is simply a Vineyard approach, not the Vineyard approach. After all, I have no authority to speak on behalf of anyone in the Vineyard movement. I'm just a Vineyard pastor. But I do think we can (and should) think on how we might respond… or even if we should respond!
Our Starting Point Matters
It is no small surprise that many who come from communities with little ethnic diversity do not understand the social unrest related to the current issues raised by Ferguson. It's equally no surprise that those who are in ethnically diverse communities find this lack of understanding quite frustrating. These may be generalizations, but generalizations often exist for understandable reason.
My own starting point is as an American white male (though I am 25% Japanese, thanks to my grandma and father!). That means that I'm part of one of the most privileged social groupings that exists (and has existed). This starting point means that I'm likely ignorant of challenges that many (most) others face, be they a different ethnicity or a different gender. My ignorance, as an American white male, matters.
So when someone like myself begins to speak out loud, whether by making comments or asking questions, my personal life experience enters into the equation. If we're being honest, I think it's impossible to have an objective opinion on issues on race. Not only is it impossible, I'm not even sure it is healthy or helpful to try!
Perhaps this is more anecdotal than some will like but my own story as an American white male also includes spending a fair amount of time in urban settings alongside people of different ethnicities. As an underground hip hop emcee, I was often the only white person among people of color, be they black, hispanic, Asian, Arabic, etc. This placed me in a somewhat unique context because I actually have seen what can only be described as racial profiling. In addition to these numerous experiences, I have been fortunate to form good relationships with people who have shed light on what their experiences as a "non-white" means. We recently posted one of those helpful explanations by Geno Olison in his helpful piece "A Few of My Thoughts on Ferguson." I'm thankful for the many others who I count as friends who have helped shape my understanding on this subject.
What's your starting point? How does it influence your opinion? What could you do to acknowledge the value of other people's starting points? How might you learn from their experience? Those are important questions, I think.
How Vineyard Values Shape My Approach to Ferguson, Garner, and Racial Tension
(1) I seek to partner with the Holy Spirit to express love, compassion, and understanding. I do not doubt that the Spirit's at work or willing to work towards these ends. So my prayer, as I'm engaging with people from different perspectives, is "Come Holy Spirit. Help me to love well, express compassion well, and do all that I can to listen well so that I can understand."
This approach, I believe, has a two-fold posture. First, it looks to work alongside and by the power of the Holy Spirit. Second, it assumes that human beings have equal standing before God (Imago Dei) and equal need for God's grace.
Every conversation I have had with African Americans has led me to conclude that they believe that the color of their skin brings about a different type of treatment than people with my skin color. Is it really loving, compassionate, or in keeping with trying to understand by telling them that they are overreacting or have a chip on their shoulder? Or worse, by telling them that there is a good reason for police to treat minority groups this way? That is, quite frankly, not very loving, not very compassionate, and an example of not understanding.
(2) I seek for a way to experience God's presence in the context of worship with people who are different than I am. There is a tie for my all time favorite "worship moments." The first was when I was in Nepal a few years ago at a church in the Chitwan District. Worshipping with a large group of Nepali pastors and church leaders, in a language I did not know and with music and ways that I was a bit unused to, was fantastic. Seeing the diversity found within the Body of Christ reminded me that the community of God's kingdom is much bigger than what we often see in our churches in the United States, be it in a "white" church or a "black" church. The second highlight was during one of my trips to Kenya. Joining a large group of African Christians worshipping Jesus was an honor. I want to experience this more.
Last night I was talking to a friend about an experience I had in what would be called a "black church." I happened to be the only white person there, the church was full of black people, and there was a picture of "black Jesus." I'm told that qualifies. At any rate, not for one second was I treated differently. Rather, I was welcomed and loved. And though the service was quite a bit different than the gatherings I had attended, I was really blessed by what happened.
I wonder if this is something we could try and do more of. It's hard, no doubt. But it's good. Perhaps this value, the idea of experiencing God in worship, would be more powerful if we included other social and cultural models within our gatherings? Might the Spirit's work in others bless the church?
And dang it, include some hip hop in your worship gathering!
(3) I seek to be a person of reconciliation. Did you know that the Greek word for "reconciliation" (katallage) can also be translated as "atonement"? How might we offer reconciliation to those who have been hurt due to racist evil? What might we do to atone for such pain?
Many would respond to these questions by saying, "But I didn't do anything!" The bottom line is simple: that doesn't matter. We say that we want to be a movement that looks to reconcile people with God and all creation. Blessed are peacemakers, right? They shall be called children of God, right?
Peacemaking is a skill, an art, and a gifting. It's also hard work. And sometimes our best intentions spiral out of control and we end up doing more damage. But that does not change our calling of being peacemakers! For those of you who are interested in growing in this area, I'd suggest you pick up a copy of Ken Sande's The Peacemaker and Christena Cleveland's Disunity in Christ. These are helpful tools toward starting toward relational reconciliation.
(4) I seek to express compassionate ministry in all that I do. When Jesus saw crowds of people he had compassion on them. This word, in its original Greek form (splagchnizomai), is more than just saying words. It goes deep. It is when our heart literally feels emotions that greatly impact us.
As I've watched several Eric Garner videos, I've had great compassion for him, his family, and those who are hurt by such a senseless act. It breaks my heart that he was choked and died. Why? How would you feel were Eric your brother? Or your father? Or your cousin? How would you feel if this was your son?
Hurt? Anger? Rage? Loss? Words simply do not likely adequately express the full sense of feeling that you would experience in that moment. Eric Garner was accused of selling single cigarettes and was then choked and died. Imagine the pain. Now imagine finding out that the civil authorities were not going to do anything about it.
Why aren't more of us bothered by this injustice? Why aren't more white people bothered by this? In another country or during another period in history, this could be your father, brother, or son.
To my friends who are deeply hurt by this, I hurt with you. I hurt for you. I'm sorry.
(5) I seek to be culturally relevant as I engage with people. While we often state that the church has a mission, I believe Alan Hirsch's observation that it is better to say that God's mission has a church. We are the community of the Kingdom, God's kingdom. How might we be relevant to the culture surrounding us if we're unwilling to really discuss issues of race? Are we really able to state that we're looking to deal with the issues and concerns of each generation if we put issues of race on the back burner?
Now don't get me wrong here. I know that many of us in the Vineyard are talking about and concerned with cultural diversity. Not only is it a subject addressed in sermons and a focus of task forces, it's addressed in Vineyard resources. Let's keep that work up.
So when we engage on this issue, can we work toward the very just and very gospelish work of breaking down dividing walls through Jesus? If that's not a relevant issue, I don't know what is.
****************************
What would you add?
What would you expand?
How might you approach this subject?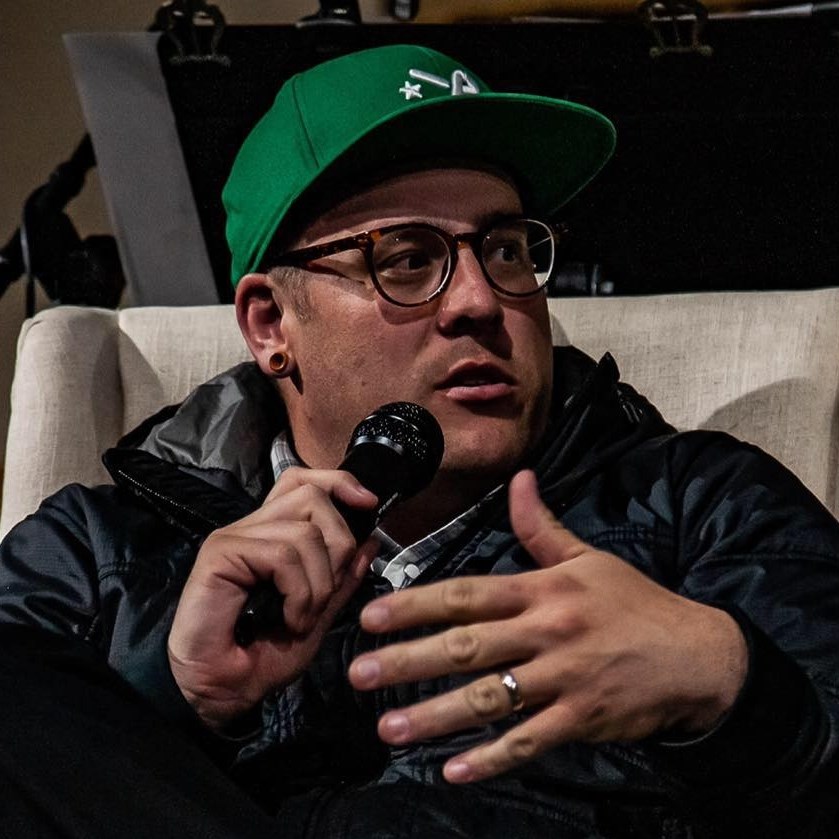 Luke is a pastor-theologian living in northern California, serving as a co-lead pastor with his life, Dawn, at the Red Bluff Vineyard. Father of five amazing kids, when Luke isn't hanging with his family, reading or writing theology, he moonlights as a fly fishing guide for Confluence Outfitters. He blogs regularly at LukeGeraty.com and regularly contributes to his YouTube channel.