There are a lot of preachers out there who are looking for ways to improve. They spend time reading blogs (e.g., churchleaders.com), listening to MP3's from other preachers, and reading books on the subject. One of the most consistent "secrets" that preachers are promised by many of these resources are related to the how of preaching without a manuscript or notes. For example, Charles Koller wrote How to Preach Without Notes and Fred Lybrand wrote Preaching on Your Feet. This topic is also found in Calvin Miller's Preaching, Haddon Robinson's Biblical Preaching, and Dennis Cahill's The Shape of Preaching. This concern of preaching in a way that doesn't appear to be using manuscripts or notes is somewhat recent in history. In 1979, D. W. Cleverly Ford wrote The Ministry of the Word and actually spent time encouraging the reading of sermons, albeit was a focus on reading well. 
The bottom line is this, in today's cultural landscape, preachers want to know how to preach awesome sermons without manuscripts or notes. And I am here to tell you how to do it. I am going to actually give away the secret that so many of these wonderful authors are selling in their books. Rather than allowing all of my fine readers to spend their hard earned green-backs on books that reveal these amazing secrets.

I feel like you aren't yet ready for these secrets though. Perhaps you do not realize what you are about to read and how special and important it is and how these secrets will literally change your entire preaching experience. Your congregations will completely change the way that they hear your sermons. Preaching without notes is, as Charles Koller wrote, "one of the greatest joys of the ministry." He also said that "freedom from notes is worth all that it costs." See that? These secrets I'm about to tell you are worth a lot of money. And here I am trying to save you that money. If you still don't believe that preaching without reading from a manuscript is a wise decision, consider Calvin Miller's words: "If there ever was an age for read sermons, ours isn't it." Bold words, right?
Okay. I think you are ready. Would you like to know the "secret" to preaching sermons without using manuscripts or notes? Would you like to know what all of these wonderful books reveal? Would you like to know how to preaching out notes, as Koller wrote? Or how to preach spontaneously on your feet, as Lybrand wrote? Would you like to know Miller's, Robinson's, and Cahill's advice? The "secret" to preaching great sermons without using manuscripts or notes is simple: memorize your sermons.
After reading these books (and many others!) in order to find out the secret to preaching without notes, I found that there really isn't a "secret." In fact, the "secret" isn't so secret. It actually makes perfect sense that the "key" to preaching quality substance without needing to read from a manuscript was familiarity. Back in 1962, Charles Koller wrote that preaching without notes "depends mainly on three factors in preparation: saturation, organization, and memorization." Recently (2008), Fred Lybrand has written that "saturation is the key to authentic, high-impacting preaching" because "a manuscript or notes becomes unnecessary when a preacher is truly saturated, this is, when a preacher truly understands his subject and the passage at hand."
The point is this: you need to saturate yourself and become very familiar with what you are planning on saying if you want to preach effectively without reading from a manuscript. Lots of people can stand up and talk but not everyone can stand up and talk and have something constructive to say. Preaching well and coming across relational and passionate while also having content takes a lot of work. In reality, there really isn't a simple "secret" or "key" to doing it. You have to work hard and prepare and plan and practice and think throughout the entire preparation process.
I'm personally inclined to agree with Calvin Miller's model. In his Preaching, he acknowledges that preaching with no manuscripts and no notes is probably not realistic for most pastors. I agree. The weekly requirements vary and things can be so up and down that finding a good eight to ten hours to prepare for a sermon can sometimes be difficult, much less the extra hours required to spend becoming saturated and familiar. Thus, Miller suggests taking a "minimal notes outline" into the pulpit. Miller notes that "a good thing about the minimal notes outline is that to the audience it appears no notes are being used at all, which suggests that all the preacher is saying is born of the moment from his convictions." However, another positive about this model is that "when the sermon has content week after week, everybody realizes that the appearance of the from cannot deny the obvious." And just what is the obvious? I think the obvious idea that Miller notes is something that all pastors should aspire towards:
"the pastor is a scholar whose apparent passion always comes from an informed soul and that as the pastor grows, so grows the flock."
Don't get worked up about the use of the word "scholar" there. Miller is not applying that every pastor earns a PhD in New Testament Theology. What Miller is suggesting is that pastors approach sermon preparation (and the sermon!) in a "scholarly" manner, meaning that a pastor takes time to become informed about the subject as a student of Scripture, church history, culture, and pastoral sensibility.
So the "secret" and "key" to preaching without reading from a manuscript is still… *drum roll*… hard work.
What do you think?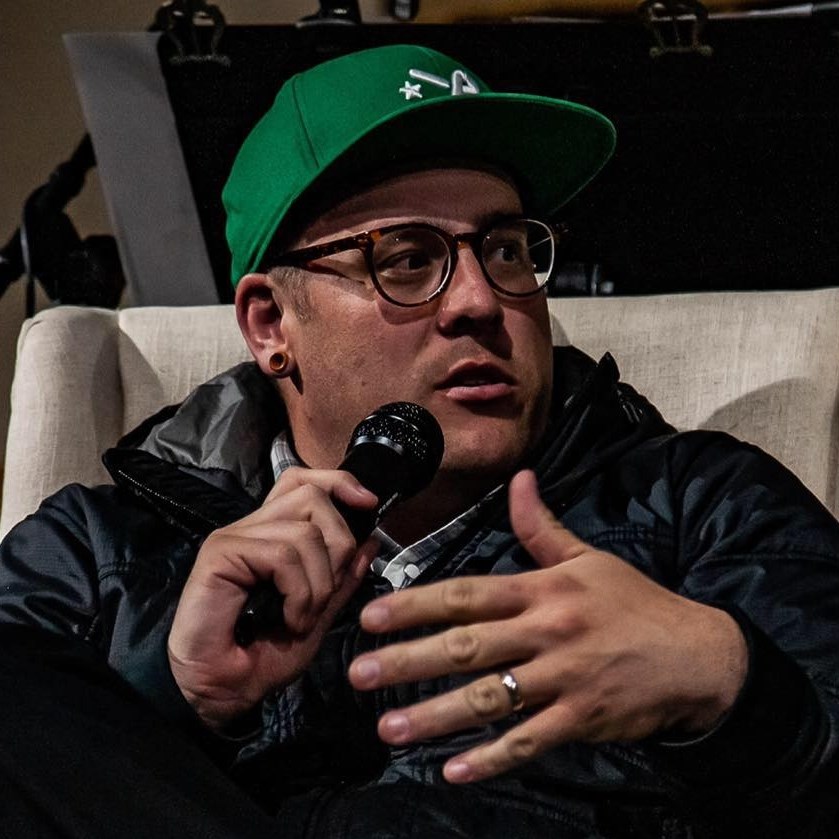 Luke is a pastor-theologian living in northern California, serving as a co-lead pastor with his life, Dawn, at the Red Bluff Vineyard. Father of five amazing kids, when Luke isn't hanging with his family, reading or writing theology, he moonlights as a fly fishing guide for Confluence Outfitters. He blogs regularly at LukeGeraty.com and regularly contributes to his YouTube channel.