To all of you who emailed me, facebooked me, tweeted to me, and messaged me about why I didn't post an update last night, I was busy and tired… so get off my back! Ha ha! Seriously, I apologize for not keeping up, but I was exhausted and I needed to either read before I went to bed or write something for you to read and I was selfish and chose to read. Oops. My bad. Ha ha.
Yesterday was the third day of the Vineyard National Conference. Here's a quick summary of what stood out to me:

Again, the music was fantastic. If the Vineyard is known for anything, it has to be music. So many of my friends and fellow pastors and theologians are primarily familiar with the Vineyard music that has come out over the years. That being said, one of my concerns about all "modern" worship in the past has been that it's very one dimensional in character. This hasn't just been a Vineyard thing either. Put simply, a lot of the music that's come out of the "contemporary" music scene could be described as being contextually more from and for people of the ethnicity known as "crackers." Since I'm white, I can say that… I think. Maybe not. I'm also 25% Japanese, so I think I might have just offended myself. I'll get back to you. At any rate, I'm super excited that a lot of diversity is finding it's way into and out of the music that's found in our churches. Yesterday's morning music was certainly not your typical worship style, but actually was a bit more bluegrass or country or quasi-gospel than many were used to… and it was beautiful. I really thought it was cool, even if it's not necessarily my favorite "style" per say. And that's why I liked it even more… because it stretched me to engage with God and be intentional at focusing upon him.
Anyway, the first speaker was Rich Nathan. Nathan is the "mega-church" pastor of the Vineyard, as he serves at Columbus Vineyard. It's huge, from what I'm told (8,500 people or something). His message was on the subject of "wisdom" and looked at Proverbs 4. This was actually the first full sermon I've listened to from Nathan and I can understand why so many people enjoy listening to him. He was passionately engaging and pretty funny. He actually opened his message up by poking fun of the previous bluegrass music, which was a little weird, but super funny. I'm still not sure I should have been laughing, but I was. I sure hope he's very, very good friends with the musicians who were leading before he spoke… otherwise I think they might have all quit. One of the major homiletic influences in my life was/is Bryan Chapell, who wrote Christ-Centered Preaching, says "poke fun at no one but self." Be assured that I'm in no way suggesting I have never done exactly what Nathan did, but it was a little uncomfortable and it caused me to actually stop and think about being more careful in the future.
Well, the message substance was great. As I indicated, Nathan is a great preacher. He called wisdom "mastering life's complexities" and made an plea for everyone to be more intentional at becoming not just smart, but wise. This comes as we faithfully walk out our relationship with God… step by step. It was a great message.
The afternoon workshop that I attended was on church planting. It was very informative and basically covered all the bases. My primary reason for going was to determine how the church I serve can get involved in planting churches. Yes, you read that correctly, churches (plural). I feel much more informed in the Vineyard process.
The evening music was phenomenal. Thus far, there has only been excellent quality music that is clearly being offered to God with a "heart of worship," as the popular phrase goes. The invitation for the Holy Spirit to break in and move was both implicit and explicit.
Last night's message was given by Steve Nicholson and Robby Dawkins. Nicholson laid out his thoughts on staying "all in" for the long haul. He basically gave these seven principles:
you got to keep getting filled if you are gonna give.
we need to keep telling the stories (and tell them to our children).
we need complete integrity in our lives and in our stories.
hold on to a theology for both success and failure.
you got to stay in the field where the harvest is.
we have to endure through the desert times.
we need to train the younger.
These were all helpful points. Dawkins gave a few stories of how the Holy Spirit's empowerment had brought about some amazing ministry opportunities and changed people's lives. Nicholson was his usually unexpectedly hilarious dry-humor self and Dawkins was extremely passionate for the in-breaking of the kingdom in our lives.
One thing that I appreciated Dawkins highlighting was that "signs & wonders" are generally connected to the proclamation of the gospel as evidence that Jesus is Lord. He noted that Jesus and the apostles spent their time doing ministry among the poor and broken of the world. Why is this true? Dawkins said,
"Desperation flags the kingdom."
The poor and broken are often extremely desperate for some form of ministry and have no other options. Amen.
After both Nicholson and Dawkins shared, there was an offer for prayer and ministry and many people went forward to get prayer.
It was a great day… full of thoughtful messages and engaging music and, most importantly, God was among his people.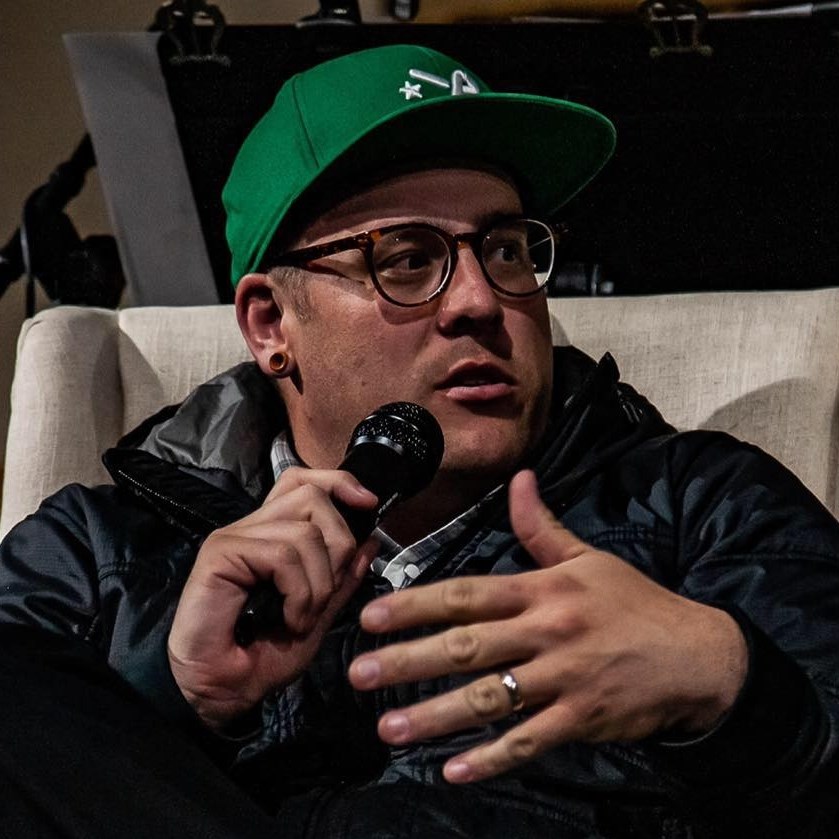 Luke is a pastor-theologian living in northern California, serving as a co-lead pastor with his life, Dawn, at the Red Bluff Vineyard. Father of five amazing kids, when Luke isn't hanging with his family, reading or writing theology, he moonlights as a fly fishing guide for Confluence Outfitters. He blogs regularly at LukeGeraty.com and regularly contributes to his YouTube channel.