A few days ago I found out another church had been planted in the local "big city." Yes, I say another in mild sarcasm. But in this city of approximately 66,000 people, there are churches everywhere. I just typed in the name of the city and "churches" and google showed a map that had dots all over the place. I can't drive into this city without seeing Baptist churches, Lutheran churches, non-denominational churches, Roman Catholic churches, Methodist churches, and more. There are churches everywhere. It almost feels like we're in the Bible belt… even though it's the good state of Wisconsin, a cheese lovers paradise.
Yes, I'm standing on a soap box today. If you dislike soap boxes, forgive me… but I think this soap box is necessary.
Why, oh why, do people plant churches in locations that are over-populated with churches? Here are some quick thoughts:

First, the Holy Spirit can certainly desire a new church to be planted… even in what appears to be an "over-saturated" location. Obviously I'm not going to suggest that someone should ignore the leading of the Spirit. I'm pretty sure Christians shouldn't be caught doing that and I'm equally positive pastor-theologian types should avoid it at all costs. If the Holy Spirit is leading someone to plant a church, do it! I'll talk more about that "if" soon.
Sometimes a local church that meets in a certain location actually outgrows that location and has to expand byway of having a "satellite" location. Thus, in some sense you have "two" churches, even though they may (or may not) operate as one congregation. I'll leave the debate over the wisdom or intelligence on multi-site churches for later. The point is that sometimes this happens and I'm not going to suggest that it is an automatic fail when it does.
I think these two realities are viable reasons to plant a church in a specific location, even if it seems to be overkill. And by viable, I mean they are good reasons, especially if the reason involves the Holy Spirit clearly leading you to do so (cf. Acts 13:1-3).
But we need to acknowledge that every time we think the Holy Spirit is telling us to do something, he may not be. If we seem to think we're 100% correct in this area, we are denying the explicit texts of Scripture that indicate that (1) prophecy must be tested (1 Thess. 5:20-21) and (2) we prophecy in part (1 Cor. 13:9).
That's why I say that you should do it if he is speaking and leading. Not just because you decide it's a good idea.
And that brings me to the crux of the issue. There are literally hundreds and thousands of churches in some cities. It's ridiculous how over-saturated some cities are… often because people simply move from one church to another (as is the case in the city I am referring to). Don't like the style of music? Move to another church. Don't agree with the direction of the leadership? Move to another church. Want more "depth" in the preaching? Move to another church. It's great… you can just keep moving to church after church until the church hopping non-committed person's dream comes true – a new church is planted.
It's enough to make me sick. Church splits and uncommitted Christians do a disservice to the kingdom of God and are a horrible testimony to the world. Let me say that again: church splits and uncommitted Christians do a disservice to the kingdom of God and are a horrible testimony to the world. 
There are obvious reasons to leave a church after communicating with leaders. If the gospel isn't being preached or if there are significant moral issues at stake, by all means, prayerfully consider moving on in a gracious, respectful, and loving way. But if you are moving to a new church because the music is better or the building is newer, shame on you.
I've traveled to a few places in the world where there were no churches in the area (parts of Africa and Asia). I have friends that have been traveling to a remote village in Thailand for the past few years where no local church exists. There are virtually thousands upon thousands of places in the world where churches are needed. And yet we keep planting churches in locations that are already surrounded with churches. That way we can really like the music and really "feel" the worship experience in a way that gives us warm and fuzzy butterflies. Is that how Jesus and the apostles viewed church planting?
Before Jesus was crucified, he said that "gospel of the kingdom will be proclaimed throughout the whole world as a testimony to all nations, and then the end will come" (Matt. 24:14). The whole world… the places that haven't heard… the places where there is need.
The apostle Paul is actually very helpful in how we can determine whether or not there is wisdom in planting a church in a location. He writes,
"For I will not venture to speak of anything except what Christ has accomplished through me to bring the Gentiles to obedience– by word and deed, by the power of signs and wonders, by the power of the Spirit of God– so that from Jerusalem and all the way around to Illyricum I have fulfilled the ministry of the gospel of Christ; and thus I make it my ambition to preach the gospel, not where Christ has already been named, lest I build on someone else's foundation, but as it is written, "Those who have never been told of him will see, and those who have never heard will understand." (Rom. 15:18-21)
Paul was caught up with a commitment to plant churches where Christ had not already been proclaimed. That's because church planting is a gospel-centered. It's not about getting people from other churches to start attending your brand new church that has green grass and more money and a better sound system and shiny guitars. No, church planting is firmly connected to working towards the greater exaltation of God's glory – making Jesus famous and known by everyone who does not know of his person and work! That is church planting.
And lest I be accused of suggesting that the only viable church planting locations in the world are in the third world, let me tell you a great place to plant churches: think rural. Seriously, there are virtually thousands of countries all over the world that are small and have desperate need for local churches. Sure, your salary isn't going to be as large as that mega-church you grow in a couple years because everyone leaves their old church to attend yours, but you will be making a difference in the lives of people who don't have any foundation laid.
And in the rural communities I am thinking of, there are often desperate needs for churches that are faithful to the gospel and faithful to Scripture. Just because there is a church building in a city doesn't mean there is a church. That's the flip side of planting a church in an "over-saturated" location… if there is an over-saturation of churches that are not faithful to the gospel or Scripture, obviously church planting is a good idea. But the cities I am thinking of sure have a lot of really good churches… until you don't like something… then they are all just not good enough, right?
So to whoever is reading this: consider planting a church in a foundationless location. Think small. Think outside the box. Think radical. Think hard and difficult. Think and pray for wisdom… don't just plant in the city that you like the most or where you think you can scrap some people away from the churches already there.
Some of what I'm writing may seem so ridiculous that you can't believe this is a real problem. Here's the sad news: I have had conversations with church planters where these very ideas are suggested on a regular basis. And the sad truth is that it's largely based on a culture of performance and evaluation that has more in common with capitalism than it does with the kingdom; more to do with judging by what we see and feel than who we know and trust. It can be very bad and have some very serious consequences…
I should state that I'm really excited about the focus in the Vineyard Church Planting Network and Michael Gatlin, the Vineyard Church planting leader. I'm also really excited about the Small Town Vineyard.
What do you think?
*Soap box exit here*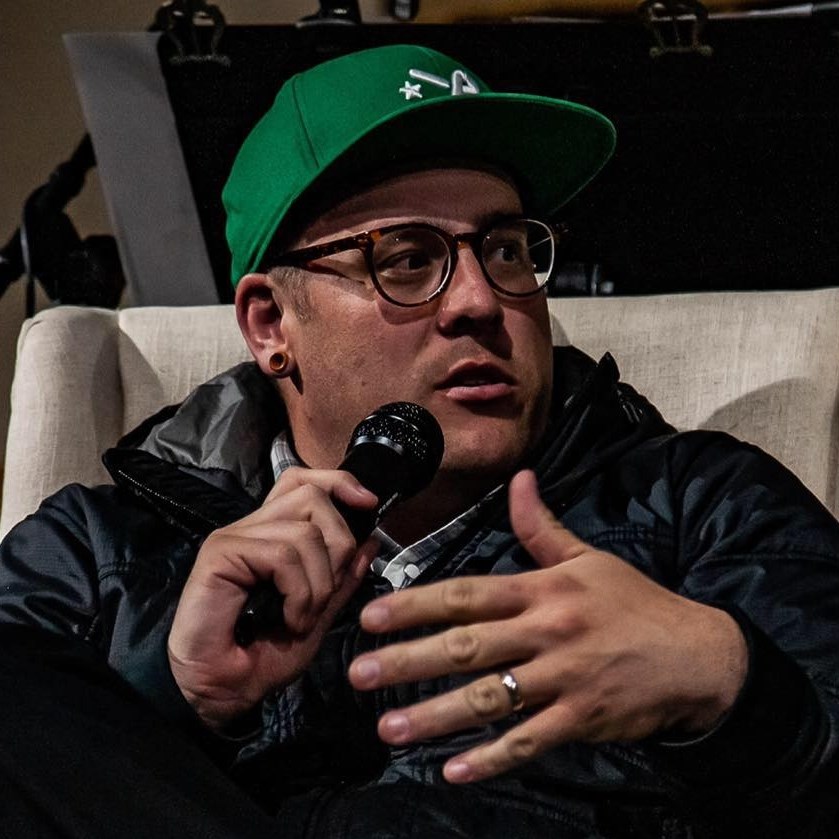 Luke is a pastor-theologian living in northern California, serving as a co-lead pastor with his life, Dawn, at the Red Bluff Vineyard. Father of five amazing kids, when Luke isn't hanging with his family, reading or writing theology, he moonlights as a fly fishing guide for Confluence Outfitters. He blogs regularly at LukeGeraty.com and regularly contributes to his YouTube channel.