There are a lot of books on spiritual gifts. The following ten books are my personal picks for the best books on what I'm calling "Charismatic Theology" – the perspective that sees the miraculous spiritual gifts as still continuing until Christ returns (healing, prophecy, tongues, interpretation of tongues, etc.). I'm working from least to greatest, from #10 to #1…
#10 – Empowered Evangelicals: Bringing Together the Best of the Evangelical and Charismatic Worlds, by Rich Nathan and Ken Wilson. This book is super influential within the Vineyard Movement and is well known by most Third Wave people. It's quite practical and is easy to understand. My only complaint is that it is not nearly as fun to read as Jack Deere books nor as exegetically rigorous as Grudem or Carson. What it does have is a forward by J. I. Packer and a good deal of practical synthesis. In fact, I think it's strength is in the area of theological reflection because it provides plenty of food for thought with how the local church should think through this issue. Plus, the title alone is gold.
#09 – The First Epistle to the Corinthians (NICNT), by Gordon D. Fee. This commentary covers the entire book of 1 Corinthians, so it isn't as focused as Carson's Showing the Spirit. However, the crucial texts related to the continuation of the charismatic experience are covered splendidly (e.g., 1 Cor. 13:10). The golden rule of "it can't mean for us what it didn't mean for Paul" is fleshed out well. Fee's commentary is still considered to be one of the best commentaries on 1 Corinthians by many NT scholars. It also provides some excellent commentary on why 1 Cor. 1:4-8 is extremely important to the discussion regarding the continuation of the spiritual gifts.


#08 – The Gift of Prophecy in the New Testament and Today, by Wayne Grudem. As far as I'm concerned, this is the best book on prophecy available. It's both scholarly and accessible, blending technical exegetical data with practical application. It really should be read by all who consider themselves "prophetic" and would provide a good foundation for many churches who allow for "prophetic" activity. Grudem's thesis is simple: NT prophecy is spontaneous revelation that needs to be tested and OT prophets are replaced by NT apostles. In addition to a great amount of exegetical work, Grudem wisely provides much needed practical and pastoral wisdom throughout.
#07 – Perspectives on Pentecost, by Richard Gaffin. Okay, this recommendation might surprise you. Gaffin is a Cessationist, which means that he doesn't believe the "miraculous" gifts have continued and is generally critical of charismatic theology. Yet it's written so well! I love this book. Much of what Gaffin says is spot on. In fact, this is a great book as an introduction to the Holy Spirit and many of his criticisms of the charismatic movement are actually helpful for us to consider. I'm not convinced that his exegesis of the key texts (1 Cor. 12-14, Eph. 2:20, etc.) are correct, but I appreciate this book a lot. Much to agree with, and it's helpful to understand the best of the opposing perspective.
#06 – God's Empower Presence: The Holy Spirit in the Letters of Paul, by Gordon D. Fee. This is the standard for Pauline pneumatology, as far as I'm concerned. It is certainly not directly addressing the issue of Charismatic Theology, but it is so relevant it needs to be on this list. It will be a standard for decades to come, if not longer. Fee masterfully demonstrates how deep Paul's understanding of and reliance upon the Spirit was. I was pleasantly surprised to find Fee also advocating that all Christians are baptized in the Spirit at conversation as well as suggesting that the common Pentecostal understanding of the interpretation of tongues is not a Pauline concept. There are literally thousands of conservative evangelicals that have Fee to thank for creating awareness of a "scholarly charismatic" category! This, in turn, renewed an interest from a large group of evangelicals to the possibility that the foundation for what was previously considered "pentecostal" or "charismatic" might also find relevance within conservative evangelicalism.
#05 – Are Miraculous Gifts for Today? Four Views, edited by Wayne Grudem w/ contributions by Richard B. Gaffin, Robert Saucy,  Sam Storms, and Doug Oss. I believe it's important for us to evaluate, weigh, compare, and reflect on our theological views in relation to how they stand in comparison to opposing views. The wonderful thing about these Zondervan Counterpoint books is that it allows scholars to offer their best explanation of a theological view and gives other scholars a chance to evaluate it and respond. This is no different. Gaffin is a fantastic selection of the Cessationist view. Saucy adequately explains the "open but cautious" view that is prevalent in many evangelical churches. Sam Storms provides the Third Wave perspective and Doug Oss the Classic Pentecostal view. Each gets a chance to question and interact with each essay. It's probably no surprise that I found Sam Storms' essay (and responses) to be the best scholarly explanation of the Third Wave view. If you are interested in what I think about this subject, see Storms!
#04 – Signs, Wonders, and the Kingdom of God, by Don Williams. There are many reasons why this makes my top ten list. First of all, it is vintage Williams, which is to say that it is classic. It builds upon what I consider to be the most important framework for Charismatic Theology: the Kingdom of God. Williams popularizes what George Eldon Ladd wrote in his The Gospel of the Kingdom and The Presence of the Future in a way that points to why an "already, not yet" understanding of the kingdom is crucial to charismatics. I love this book because it powerfully connects theology to life and demonstrates convincingly the need for us to abandon our skepticism and seek to see the Spirit's power at work now! If you don't have a copy of this, you need to get it immediately. The only reason
#03 – Convergence: Spiritual Journeys of a Charismatic Calvinist, by Sam Storms. If you are Reformed and find yourself attracted to things related to exegesis and hermeneutics and systematic theology, you should read this book. Talk about box breaking! Sam Storms taught at Wheaton College, speaks regularly within conservative Reformed circles, is a specialist on Jonathan Edwards, and served in the Vineyard and at the Kansas City Int'l House of Prayer. If that doesn't shatter your assumptions, I don't know what will. This book is similar to Deere's as it is fun to read and theological challenging. You'll find plenty to stimulate you. I only wish more Calvinists would read Storms and seriously interact with his proposal. I love this book and couldn't put it down.
#02 – Showing the Spirit: A Theological Exposition of 1 Cor. 12-14, by D. A. Carson. This is not really a popular level book as it is quite scholarly and full of footnotes. But I love it. Carson provides a synthesis of exegetical data and theological reflection that takes a Continuationist view. Throughout the work, Carson demonstrates that the idea that the gift of tongues "ceased" at the end of the 1st century and with the close of the NT Canon is simply indefensible from 1 Cor. 12-14. He also convinced me that the Pentecostal doctrine of a subsequent Baptism in the Spirit does not fit the NT data. It's really a perfect blend of pointing out the exegetical flaws of hardline Cessationism and the abuses found within the charismatic movement.
#01 – Surprised by the Power of the Spirit, by Jack Deere. Deere was a professor at Dallas Theological Seminary and strongly opposed to Charismatic Theology. Throughout this book, Deere winsomely shares his story of how he went from hardline Cessationist to pastoring alongside John Wimber of the Vineyard. To me, this is still the best introduction to the subject and the most enjoyable to read. Deere's exegesis is convincing and his transparency amazing. It is the standard intro to the subject and the first book I give to people who are exploring this subject.
Honorable mentions: The Charismatic Theology of St. Luke, by Roger Stronstad; The Beginner's Guide to Spiritual Gifts, by Sam Storms; The Beginner's Guide to the Gift of Prophecy, by Jack Deere; Naturally Supernatural, by Gary Best; Breakthrough: Discovering the Kingdom, by Derek Morphew; Surprised by the Voice of God, by Jack Deere; Power Healing, Power Evangelism, Everyone Gets to Play, Power Points, each by John Wimber; When the Spirit Comes with Power, by John White; The Quest for the Radical Middle, by Bill Jackson; Renewal Theology, by J. Rodman Williams; Systematic Theology, by Wayne Grudem; and Healing and Christianity, by Morton Kelsey.
Stay away from: everything written by Benny Hinn, Joel Osteen, and John MacArthur's Charismatic Chaos. These works are a waste of your money.
Feel free to add your personal favorites!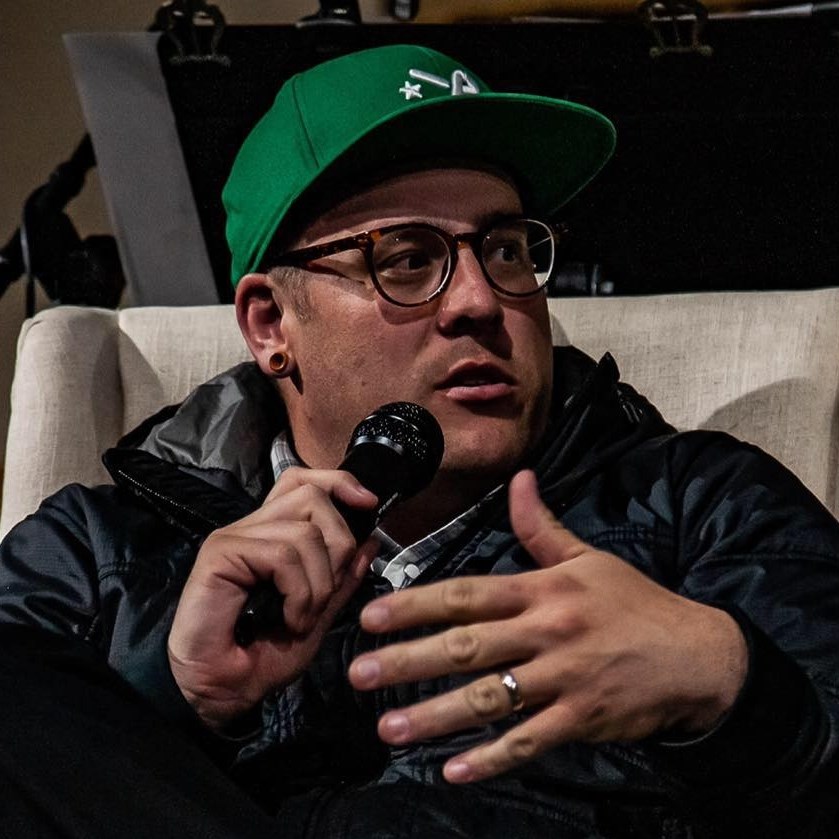 Luke is a pastor-theologian living in northern California, serving as a co-lead pastor with his life, Dawn, at the Red Bluff Vineyard. Father of five amazing kids, when Luke isn't hanging with his family, reading or writing theology, he moonlights as a fly fishing guide for Confluence Outfitters. He blogs regularly at LukeGeraty.com and regularly contributes to his YouTube channel.