In 1984 I entered into kindergarten. In my recollection, I was kind of a shy kid when it came to being away from my parents. My mom probably thinks I was a terror handful, but I remember feeling very insecure as a young child. I'm not really sure why though. Anyway, I enter kindergarten and my life changed because of a very special person – Mrs. Spoleman. Up until a couple days ago, I hadn't really thought about this special women, but I can't express how much I loved her and recognize how much she impacted my life.

Mrs. Spoleman made me feel alive. I don't really know what it was about her or the environment she fostered, but I really sensed that I had the freedom to learn and to grow and to try new things, even if it meant failing. Some years later I had a teacher who encompassed the opposite of every single one of these characteristics. He neither encouraged his students to try new things nor did he create the type of atmosphere that encouraged growth or learning. His teaching methods would more than likely consist of every method that we are taught not to do. I'm sure most of you have had teachers that fall into one of these two categories. What set Mrs. Spoleman apart from all of my other teachers was that she encouraged her students to take risks.
Taking Risks Keeps Us Dependent Upon God!
Throughout the Scriptures we find narrative after narrative of men and women taking risks before God. Now, before I give you some examples, let it be known that I thoroughly reject any theological presupposition that states that God Himself takes risks. Several theologians have suggested that God Himself takes risks and is somewhat subject to His creation yet I find numerous biblical, philosophical, and practical issues with this concept. But the fact that many of the greatest stories of the OT and NT are about risk-takers is something we can't quickly gloss over. For instance…
Abraham – In Gen. 12 we read that Abraham was told by God to leave everything behind. He was to leave his country, his family, and his material wealth behind him. Abraham was to take a risk at exercising faith, which the writer of Hebrews makes special note of (cf. Heb. 11:8-19). Abraham was a risk taker.
Moses – Now Moses didn't always take risks quite as 'trusting' as others. We find evidence of this throughout the exodus narrative. When the Lord called for Moses to confront Pharaoh and lead the Hebrew people out of Egypt and into the Promised Land, Moses found numerous excuses to keep him from obeying God's command (cf. Ex. 3-4). Yet we also can see that Moses still took some significant risks in his approach of Pharaoh and his leading of his people out of Egypt. Moses was a risk taker.
Joshua – As the children of God were leaving the wilderness and entering into the Promised Land, Joshua was commissioned to lead the way. Throughout the book of Joshua we see event after event where Joshua took risks as he and his household served the Lord (Josh. 24:15). Joshua was a risk taker.
Peter – Our beloved Peter started out a bit rocky but slowly, by the grace of God, became such a wonderful example of risk taking for the glory of God. Sure, Peter lacked the faith to walk on water, but who else took the risk of jumping out of a boat to go see Jesus? Sure, Peter denied Jesus three times, but who else took the risk of actually going into the court yard? Deep within Peter's heart was a desire for greatness and the glory of God. Peter just often confused the two! But make no mistakes, Peter was a risk taker.
And throughout the rest of the NT we read example after example of the early Christians taking risk after risk for the glory of God. Paul took risks for the sake of the Gospel and covered most of the known world of the Roman Empire. The apostle John took risks for the glory of Christ until he became a political outcast and was imprisoned on the island of Patmos. Timid Timothy went to Ephesus as an apostolic delegate and took a risk in leading people older than himself in the midst of many false teachers. The list goes on, and on.
Taking Risks Within the Community of Believers
There's one text of Scripture that clearly calls for Christians to take risks within the congregational setting. It's written by James, the brother of Jesus and one of the leaders of the church in Jerusalem. He writes,
"Is anyone among you suffering? Let him pray. Is anyone cheerful? Let him sing praise. Is anyone among you sick? Let him call for the elders of the church, and let them pray over him, anointing him with oil in the name of the Lord. And the prayer of faith will save the one who is sick, and the Lord will raise him up. And if he has committed sins, he will be forgiven. Therefore, confess your sins to one another and pray for one another, that you may be healed. The prayer of a righteous person has great power as it is working." – James 5:13-16 ESV
Those who are suffering and sick must take risks by approaching the leadership and/or the congregation for prayer! James is not only expressing that this was normal in the early apostolic communities, but it should remain that way! So there is no reason not to ask for prayer regarding practical prayer needs (e.g., sickness, family issues, etc.).
On a side note, you'll notice that James says that if there is sin causing the sickness, it will be forgiven. James does not say that all sin is a result of sickness. This strongly calls into question the teaching of the "health/wealth" gospel.
Nevertheless, if someone has a need, they need to take a risk and ask for prayer!
Why Should We Take Risks?
There are numerous reasons that I could give to encourage you to take risks for the glory of Christ, but I'll simply suggest two that motivate me…
First, it is evidence of faith. Taking risks is, in a sense, a way that we can express that we trust God and His Word to be true. Obviously God knows everything but the Scriptures also indicate that faith is something that we demonstrate by our actions. Faith without action is a waste of time, so says James!
Secondly, and perhaps the most important for me, the primary motivation for taking risks is the role that the Holy Spirit plays in the lives of Christians. Time and time again the Scriptures teach that the Holy Spirit is our helper and the person who empowers our ministry (cf. John 14-16; Acts 1:8; 1 Cor. 12-14). And since we are to constantly seek the filling of the Holy Spirit I find it just as practical to constantly be looking for opportunities to take risks for the glory of Christ.
For example, I'm seeking the Lord to give me more boldness so that I can take risks when I sense the Lord desires for me to say certain things to certain people, to pray for certain things or certain people, and to do certain things at certain times. I am, more or less, wanting to be a risk taker for God's glory, and not my own. And since taking risks keeps us dependent upon God, He alone should get the glory!
And yes, the audio for this sermon is here.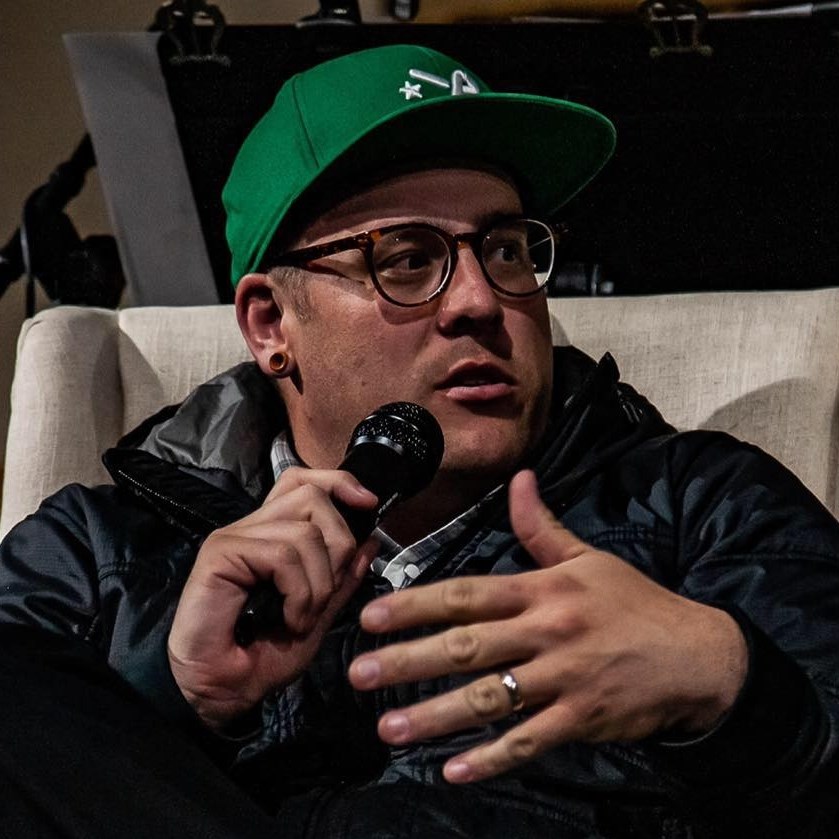 Luke is a pastor-theologian living in northern California, serving as a co-lead pastor with his life, Dawn, at the Red Bluff Vineyard. Father of five amazing kids, when Luke isn't hanging with his family, reading or writing theology, he moonlights as a fly fishing guide for Confluence Outfitters. He blogs regularly at LukeGeraty.com and regularly contributes to his YouTube channel.