For the past three weeks I've been speaking a lot on missional living. The term "missional" has become somewhat of a common slogan used by many simply to sound cool, but we're trying to really embody the concept. And while it is true that we are responsible for our personal and individual relationship with God through Jesus, it is also true that the Church is comprised of individuals that make up a corporate body! In our individualistic American culture, we need be careful in how our fascination and love for individuality does not replace and override what the bible teaches about ecclesiology.
Thus, my thesis for yesterday was that missional living needs to be seen through community. This is to say that I missional living becomes highly effective when it is viewed through the lense of relationships. There is a great deal of power through community and relationships. Luke's record of the birth of the Church implies this very concept…

"So those who received his word were baptized, and there were added that day about three thousand souls. And they devoted themselves to the apostles' teaching and the fellowship, to the breaking of bread and the prayers. And awe came upon every soul, and many wonders and signs were being done through the apostles. And all who believed were together and had all things in common. And they were selling their possessions and belongings and distributing the proceeds to all, as any had need. And day by day, attending the temple together and breaking bread in their homes, they received their food with glad and generous hearts, praising God and having favor with all the people. And the Lord added to their number day by day those who were being saved." – Acts 2:41-47
As you'll notice, the church grows by 3,000 people and those early converts are devoted to apostolic teaching, fellowship, breaking bread, and prayer which then leads to great signs and wonders, generous communal living, and more evangelical fruit. So while the early Christians living relationally in a close community, missions naturally happens. And what's clear is that the missional living is effective (i.e., "and the Lord added to their number day by day those who were being saved").
So here we are, some two thousand years later. As noted, we live in a western civilization that is rooted in an individualistic presupposition that does nothing but attack the very essential characteristics that help build and maintain community through relationships. How do we respond to this problem? How are we to confront a worldview that does everything it can to keep us seperated and essentially alone and without support?
Along with being devoted to relationships, as were the early followers of Jesus, we must pursue relationships. This simply means that we must become intentional in our living. If I desire to live missionally, I can no longer drift aimlessly through life, ignoring the thousands of people around me who are in need of salvation. I have to have purpose. Living missionally demands that we are intentional and purposed at reaching people by building relationships.
The sad truth is that in many cases, we more or less have to earn the right to speak into peoples lives. Against our "fast-food" culture, this takes time. And if relationships take time, than we obviously must invest our time and energy in them! Every relationship that I have that has depth was built over a long period of time. In regards to relationships and trust issues, nothing happens easily or quickly in a post-modern society.
Yet far to often, Christians are essentially absent from culture and stuck in what Dan Kimball has eloquently described as "the Christian bubble" (cf., They Like Jesus But Not The Church, 42-48). This generally prevents Christians from interacting with non-Christians because slowly over time they simply do not know any non-Christians! Kimball writes,
"I can't help but think of Jesus' prayer for his disciples: "My prayer is not that you take them out of the world but that you protect them from the evil one" (John 17:15). He didn't pray that we isolate ourselves from those outside the church. He didn't pray that we should be happy and content living inside a Christian bubble listening to our favorite worship band or Christian musician on our iPods. Instead, Jesus seemed concerned that his folllowers not isolate themselves from the wrold around them. He was concerned that we understand that evil is real and that we should be aware of the schemes of evil (2 Cor. 2:11) that would thwart us from the mission that Jesus sent us on." (p. 47-48).
Perhaps the greatest need within a missional lifestyle is fellowship with the Spirit. Many evangelicals emphasize a relationship with Jesus and ignore the crucial missional-empowering fellowship that one can have with the Holy Spirit! But this was an essential to the mission-minded framework of the NT. In fact, Paul closes 2 Corinthians with a Trinitarian benediction that I believe is crucial to understanding of how we are to understand both the gospel and progressive sanctification.
Fellowship with the Spirit. What an amazing concept. Words cannot express the awe and splendor of such a relationship. And in regards to missional living, the Scriptures make it clear that fellowship with the Spirit will empower us to boldly proclaim the gospel of the kingdom! We find evidence of this specifically in Acts 1:8, which states,
"But you will receive power when the Holy Spirit has come upon you, and you will be my witnesses…"
Now, I have two concerns with this. Firstly, we must realize that the gospel is confrontational. If our gospel is not confrontational or somewhat "offensive" than we are probably not presenting the gospel of the kingdom. Many Christians certainly share a gospel but their gospel isn't always the same as the gospel that Jesus, Peter, Paul, and John preached. The gospel must include a radical call to obedience and transformation. Following Jesus is not easy; in fact, it is costly on every level.
Secondly, this does not mean that we are called to share the gospel specifically to offend people. Time and time again I have heard Christians make statements like, "our job is just to present the raw truth" or "just tell them how it is." The context of these statements always suggests that the most offensive we can present the gospel, the better our reward! But I'm unaware of any Scripture that says we receive points for how many times we "tell them how it is" without love and grace. Yes, we need to communicate the gospel in terms of "sin" and "repentance" and "redemption" and "forgiveness" but we Peter states that we are to always be ready to provide a defense for the hope of the gospel gently and with respect.
I believe Jesus provides a great model for this in John 4. As you may recall, John 4 is the text where Jesus interacts with a Samaritan women who had lived through five broken marriages and was then living with a man outside of the bounds of marriage. But Jesus paints such a beautiful picture of a gracious and loving confrontation of the gospel. And this leads to an entire city being redeemed (cf. John 4:39-42). But Jesus modeled missional living in the fellowship of the Spirit, which is a great goal for each of us.
So, here are some questions to ask ourselves…
If I were to evaluate my life, what prevents me from really embracing community through relationships?

Why are we not intentional at forming relationships with sinners? Are we afraid of them? Are we unable to relate to them?

Why do most Christians join the "Christian bubble"?

Does my fellowship with the Holy Spirit lead to missional living or emotional experience or both? (Yeah, be honest here).
for the glory of Christ,
luke g.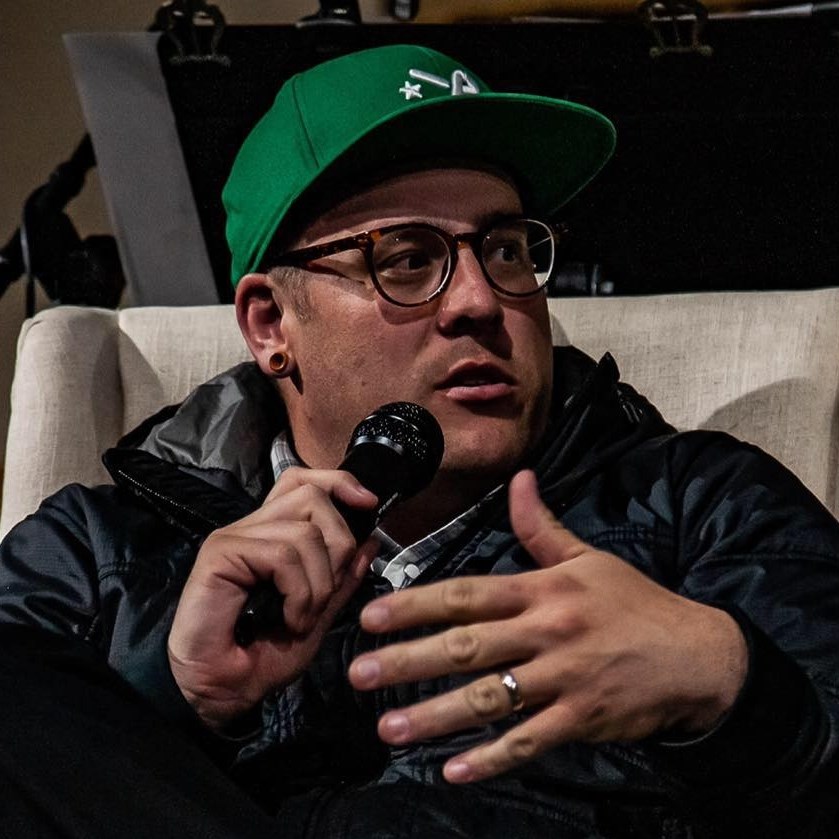 Luke is a pastor-theologian living in northern California, serving as a co-lead pastor with his life, Dawn, at the Red Bluff Vineyard. Father of five amazing kids, when Luke isn't hanging with his family, reading or writing theology, he moonlights as a fly fishing guide for Confluence Outfitters. He blogs regularly at LukeGeraty.com and regularly contributes to his YouTube channel.